Shopping i Sevilla
Publisert 8. mai 2019

av Sveinung Berntsen
Hva bør du kjøpe med deg fra Sevilla, og hvor bør du kjøpe det? Vi har spurt en ekspert som har svart svært utfyllende.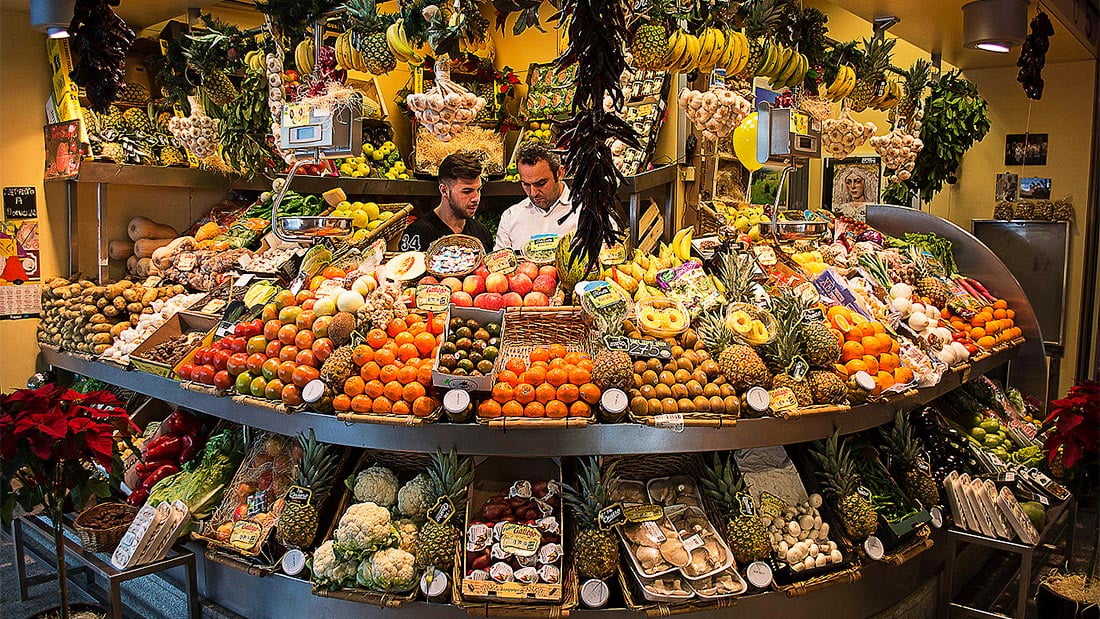 Som en del to av vårt intervju med Ángeles Torregrosa fra turistkontoret i Sevilla presenterer vi hennes ganske omfattende guide til shopping i Sevilla. Del 1 av intervjuet leser du her. Også denne delen er på engelsk.
Main shopping areas
Tetuán – Sierpes
Trending brands and fashion accessories now have their own place: shopping malls, jeweller's, important national and international companies and beauty centers. Great windows to the latest tendencies in art and design. You can also find a wide offer of restaurants, gourmet spots and our famous cafeterías.
Alfalfa
Seville's Discovery Route connects the Cathedral with Encarnación square. Through these streets you'll find the most successful Sevillian commerce: flamenca and wedding dresses, party dresses, Holy Week products, shoes and traditional cloths. Do not forget to walk the streets of Puente y Pellón or Cuna, known with the commercial name of Soho Benita; or enjoy the most beautiful squares: Alfalfa, Pan and Salvador where you can try the exquisite tapas with the locals.
Encarnación
The most modern square in Seville. Past and Future shake hands: the Antiquarium with the archaeological remains beneath the contemporary overlook Metropol Parasol (popularly known as 'the mushrooms' or setas). Tradition and avant-garde also meet in the commercial streets of José Gestoso and Regina. This place will definitely leave a mark on your memory.
Triana – Los Remedios
This is the best historical district where you can find the Ceramic's market or where you can just walk through the Mercado de Triana (Market in Triana). In this market you can buy products from local cuisine.
Nervión
It is well-connected to the downtown by metro and tram. You can find there big multinational brands and the best shopping centers. Shops are situated between Luis Montoto and Luis de Morales Streets.
– You may also find El Corte Inglés big department stores and shopping centers such as Nervión Plaza and the recently opened Torre Sevilla.
Local designers
– Seville offers you all the big international brands at the main shopping areas in the city: fashion, accessories, decoration, etc. together both at big shopping centers, department stores and small shops.
– Due to its age-old history and traditional craftsmanship, Seville is the place to find countless unique products which you will only find here. But there is also another side to Seville, an innovative and trendy one.
– Seville's craft industry includes two main branches: ceramics and pottery. Although the first pieces date back to the Neolitic period, this art comes truly alive during the Muslim period, enriched later by Classical techniques and patterns. We can find examples ranging from Muslim decorative motifs to Baroque patterns from the 18th century and classical Italian-style designs from the 16th century.
– Today, many of these ornaments are still the main attraction in numerous streets, buildings, patios and even at typical taverns or restaurants of our city. It is worth to single out the craft pieces of La Cartuja, a factory founded in 1839 by Charles Pickman.
– Nowadays, Seville still maintains an extensive network of shops where you can buy many craft products, made with just the same careful attention and dedication as centuries ago. Shawls, mantillas, embroidery, lace, fans, musical instruments, garnishing apparel, flamenco dresses and accessories, etc. are just examples of this craftsmanship.
– Sevillian craftsmanship is undoubtedly linked to Semana Santa, thanks to which many traditional occupations are still alive. Examples of these are gold embroidery workshops, gold and silversmiths, woodwork, religious wood carving and candle factories. It is worth to point out the carving of small replicas of the most representative images in the city.
– All this traditional craftsmanship shops are mainly in the shopping areas of the old town: Alfalfa, Tetuán-Sierpes, Encarcación and Triana.
Nervión Plaza. Foto: Mario Fernández

Fra Mercado Triana
Food markets
Mercado del Arenal
This is the main market of one of the oldest neighborhoods in Seville, an area that has always been linked to the port of the city and which had an important role in the era of the trade with the Indies. Wine tasting courses are taken there and it hosts the only vegan's shop in Seville.
Mercado de la Encarnación
It is located in the Espacio Metropol Parasol (Plaza de la Encarnación). It is the latest market in Seville and it is placed above the biggest Archaeological Exhibition Area of all the downtown, the Antiquarium. At the top, you can find the biggest 360° viewpoint in Seville.
Mercado de Triana
It is located in a privileged place. You can find it in the other bank of the river, at the end of the Puente Triana, or Puente de Isabel II, (Triana's bridge). This is, joint to the Encarnación market, much more than a simple market because under it you can find the remains of the Castillo de San Jorge (San Jorge's castle), a museum with a special archeological and educational interest, which was seat of the Inquisition in Seville. Most of its markets are small grocer's shops or bars where you can taste fresh products and the varied traditional cuisine of the city.
Mercado de la calle Feria
This market is next to the church of the Omium Santorum and it dates from the XVIII century. This is one of the oldest market in the city and inside it there is always a good atmosphere. It is crowded on Thursdays, Fridays and Saturdays but it is a perfect place for buying and tasting some traditional food from Seville.
Other markets
Mercado de Artesanía del Postigo (Craftwork market)
This old fish market is a singular building from the Sevillian architect Juan Talavera y Heredia. Inside, you can find places dedicated to artesains of different disciplines. Opening hours: from Mondays to Fridays, from 10:00 to 20:00 p.m. / Saturdays and Sundays from 11:00 to 15:00 p.m. Please, check the opening hours.
Mercadillo Paseo del Arte
Paseo de la O, next to the Castillo de San Jorge (San Jorge's castle). Open every Sunday morning. Paints, crafts, glass beads, etc.
Mercado de Coleccionistas (Collector's market: stamps, coins, etc.)
Plaza del Cabildo. On Sundays morning, in front of the cathedral It is located in the Plaza del Cabildo, a singular square semicircular to which you can access through Avenida de la Constitución. There, you can find old objects, numismatics' objects and philately ones, but you can find also sweets from all the Seville's convents.
Mercadillo de Arte (Art's market)
La Plaza del Museo, which takes its name because it is located in front of the Museo de Bellas Artes (Bellas Artes Museum), hosts plenty of drawing amateurs, professionals who show their works and curious people looking for art. In adjacent streets, as for example San Vicente, art's galleries have been increased because of the approval of the Sevillian museum.