Insidertips fra Sevilla
Publisert 26. oktober 2018

av Sveinung Berntsen
Det er veldig bra å få reisetips rett fra en lokal som kjenner byen inn og ut. Enda bedre er det å få tips fra en som kjenner byen like godt som de lokale, men samtidig er utenfra og har evne til å se byen med nogen lunde objektive briller. Hils på Catherine Gaa.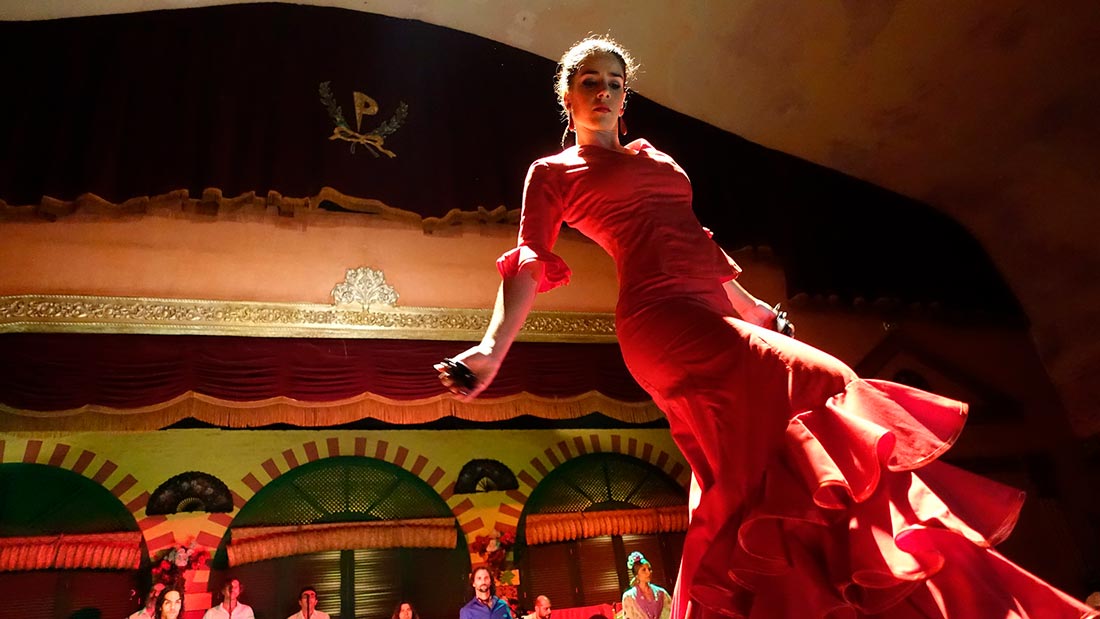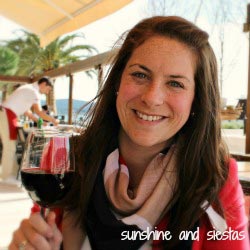 Vi har blitt kjent med blogger Catherine Gaa. Hun er opprinnelig fra Chicago, men har bodd i Spania i mange år. For tiden bor hun i Madrid, men det er i Sevilla hun har bodd lengst og føler seg mest hjemme. Hun driver en prisbelønnet blogg hvor hun deler sine opplevelser fra Sevilla og andre steder hun reiser. Besøk bloggen hennes på sunshinesandsiestas.com.
I forbindelse med at Opplev Storbys lesere har bestemt at vår neste tur skal gå til Sevilla har vi intervjuet Catherine om byen. På grunn av hennes dårlige norsk, er intervjuet på engelsk:
What made you fall in love with Seville?
– Seville is the Spain you imagine – the color, the vibrant culture and the ubiquitous tapas, bullfighting and flamenco. I fell in love with the tapas straightaway, but after nine years living in Seville, what I've come to appreciate is the lifestyle. I moved to Madrid two years ago for a job opportunity and feel like I'm in the rat race – life in Seville moves at a slower pace, is less expensive and it's said that a sevillano trabaja para vivir – one works to live and not the other way around.
For a first-time visitor to Seville: 3 things we must see & do in Seville? What to avoid?
– This is a difficult question, especially considering how popular Seville is getting for tourism. I'll narrow it down to tapas hopping and trying lots of different dishes and drinks, seeing a bird's-eye view of the city from the Setas and crossing the bridge into Triana to get a feel for a traditional neighborhood.
– Please don't take a Segway. Or the horse carriages.
When is the best time to visit Seville in your opinion? We've heard that it can get quite hot in the summer?
– Seville is situated in the Guadalquivir Valley at only a few meters above sea level, which means that all of the hot air sits above the city! It's considered one of the hottest urban areas in continental Europe, so you'd do well to visit in the late fall (September and October) before it begins to rain or in the spring (mid-March to mid-May).
– Seville's big festivals – Holy Week and the April Fair – are not the best time to travel. Hotel occupancy climbs, as do rates, and you'll find that many of the sites are closed or have reduced hours. What's more, the Holy Week processions clog the city center, making it difficult to move around; the April Fair, which begins two weeks after Easter, can be enjoyed as a tourist, though most of the tents are private. That said, the festivities are concentrated in one area of the city, so you can enjoy the tapas scene and the sites during the festival.
What is the best way to get around the city?
– Seville is flat and has one of the largest historic centers in Europe, which makes it perfect for exploring on foot. We're also one of Europe's best bike cities thanks to kilometers of trails designated for two wheels. If you can, rent a bike for a day or two through Sevici, the city's public bike sharing program, and explore the parks!
– What you shouldn't do is rent a car because Seville is relatively small and all of the sites are concentrated in the center of town. Additionally, there are a number of one-way roads and little parking available.
We also read that Seville got a great Tapas scene. Could you recommend some good restaurants? Where do the locals eat?
– Eating tapas and bar hopping is practically a rite of passage when in Spain, and the small plates of food are ubiquitous to the south of Spain – that said, they are rarely free in Seville.
Please don't take a Segway. Or the horse carriages.
– Tapas can be hot or cold and made from a variety of ingredients. Legend has it that a bar owner covered a sherry glass with a slice of ham, and this is how tapas were born. True or not, they're popular at meal times (remember that Spaniards eat quite late!); you can easily go from one place to the next, having a beer or sherry and a tapa, which will range from about 1,50€ to maybe 4€ or 5€, depending on the portion, the ingredients – and just how flashy a restaurant is.
– To avoid a tourist trap, always look for a bar with locals in it – even better if there is waste on the floor and no room to even sidle up to the bar! You should also try to avoid any place with a poorly translated menu, which tend to be clustered near the cathedral.
– Here are a few of my favorites, by neighborhood:
Are there any good vegan/vegetarian restaurants?
– Pork is king in Spain, though Seville has been diversifying its food scene over the last decade (and it's now a law that menus in Spain must list allergens in addition to vegan items). Just be aware that vegetarian may also mean that canned tuna or even eggs are dumped on a salad: pisto manchego, gazpacho, tomate aliñado, grilled vegetables are easy to find.
– Vegetarians and vegans (vegetariano/a and végano/a are the male and female forms of both words in Spanish) can also get tasty food at: El Paladar or Arte y Sabor near Alameda de Hércules, Gaia Eco Restaurant near Plaza de Armas and El Enano Verde off of Calle Feria.
What about the nightlife in Seville?
– Sevillanos are social people, and the long hours of daylight mean that they're out at just about any hour of the day! It's normal to have a beer with lunch, after lunch, before dinner – but remember that Spanish people drink socially and not to get drunk.
– If you're looking for a fancy cocktail, there are loads of rooftop bars at hotels (like Hotel Inglaterra, Hotel Doña María and Hotel EME are thee best-known); you can also grab a drink at the bars on Paseo Colón or Calle Betis, right on the river.
…it's said that a sevillano trabaja para vivir – one works to live and not the other way around.
– Cold, cheap beer can be found at the cervecerías. Expect no frills service. Many locals gather in Plaza del Salvador for a few beers but my all-time favorite is La Grande in Triana (followed by El Tremendo in Plaza Santa Catalina and La Melva near the Virgen de Rocio hospital).
– If you'd like to see flamenco, the Casa de la Memoria brings in big names. Tablaos tend to be overpriced, so ask at the tourism office (Plaza Virgen de los Reyes) for what's around. If you're lucky enough to be in town for the Bienal del Flamenco, a biannual festival, don't miss a show!
What has the city to offer for the culturally interested tourist?
– Seville's two-millennia long history has seen Romans, Visigoths, Moors. Riches of the New World were first registered in the General Archives of the Indies. The Inquisition and the Spanish Civil War left their marks on the city.
– There are world-class art museums, a UNESCO World Heritage complex, plenty of green spaces and a wonderful dining scene in Seville.
Where are the best places for shopping? Where do we find local designers in clothing, shoes, accessories, furniture?
– Seville's shopping district is clustered around the Tetuán and Sierpes streets, quite close to the Plaza Nueva. Big brands – think Zara, H&M and the Corte Inglés department store – can be found here but smaller, local shops populate the side streets. You can also find specialty goods in Soho Bendita around Plaza Alfalfa and on Calle Regina, just behind the Setas.
– If you're looking for a local market, Calle Feria hosts the El Jueves market every Thursday morning. It's a lot of fun to pick through antiques!
– Local food markets are enjoyable and a place to see local life in action. I am partial to San Gonzalo in my neighborhood of Triana, but the Triana market is a bit closer to the city center and boasts plenty of great stands. If you're closer to the center, try the Feria market (there's even a bar that will fry up your fish for you!) or the Encarnación market.
– Great gifts would include ceramics from Triana, olive oil or sherry wine.
Barcelona is one of the most popular cities to visit for Norwegians. Give us 3 reasons why we should try Seville instead.
– I think you'll need just one: the people. Barcelona is experiencing a tourism overload, which has led to restrictions on AirBnB style accommodation, tourism caps and a lot of animosity towards tourists. What's more, larger corporations (think food companies) are pushing out age-old businesses, which has created a lot of tension and anger from locals.
– It truly is a double-edged sword: tourism dollars can breathe life into a city but it also has negative effects on locals as far as gentrification and rent costs.
Finally: Have you ever been to Norway?
– Sadly, no! I have a lot of places on my list, and Scandanavia on the whole is pretty high!
—
Vi takker Catherine Gaa for hennes gode tips til å oppleve Sevilla. Vi legger ved noen linker til hennes blogg. Vil du bli bedre kjent med byen Sevilla anbefaler vi å ta en titt på disse artiklene.